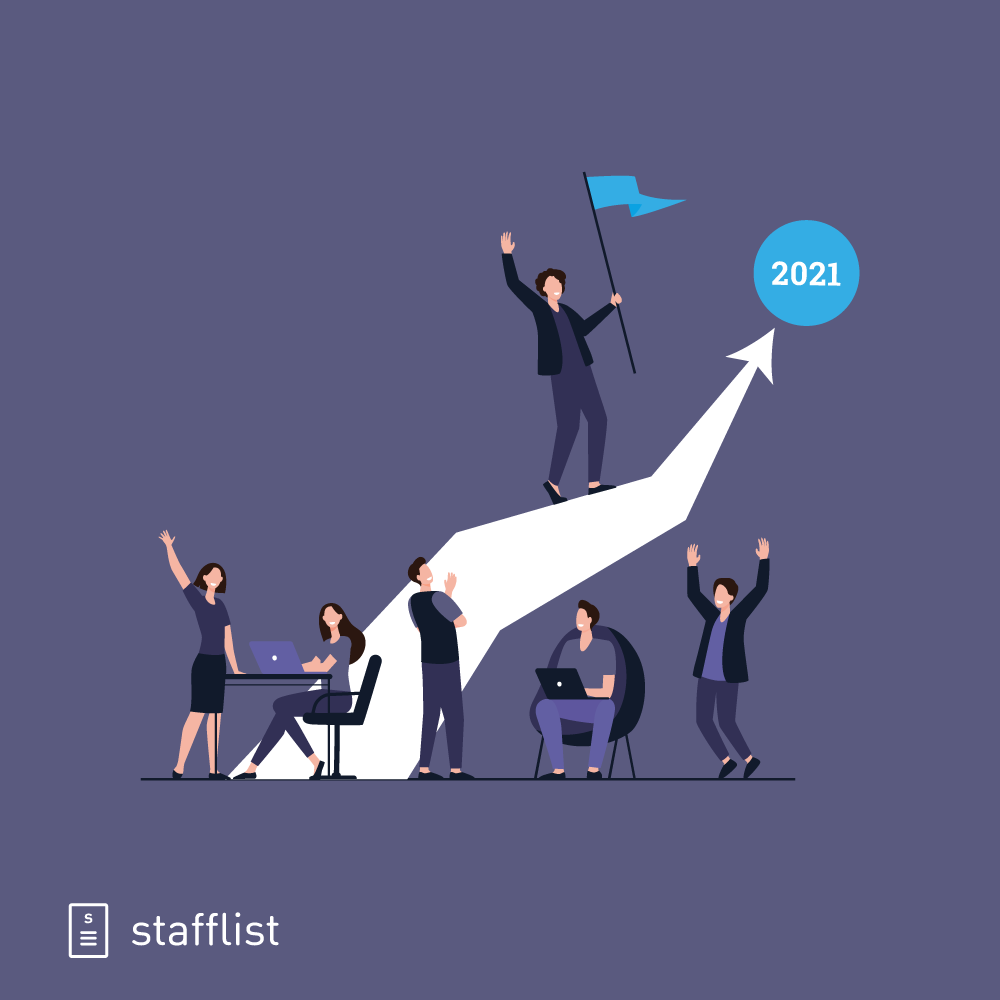 The staffing industry has been going through major turbulence since the dawn of Covid-19. Read this article for a few tips, if you're worried about the stance of your staffing firm in 2021 and wondering about how can you make it grow amidst all the chaos.
Being a 'Staffing Agency', you're probably so engulfed in providing the best candidates for the growth of other businesses, that you forget to look after your own agency's growth. Whether your forte is in temporary staffing or permanent staffing, to succeed, you have to grow. And how can you do that? We're here to enlighten you!
Tip 1 - Professional Networks & Recommendations
The rise of your staffing firm relies upon the quality of candidates that you have for your clients. And you don't have to deplete all your resources in seeking new candidates, you can make them come to you!
Request your placed candidates to refer you to the network of professionals they're acquainted with!
Through this method, you can quickly find great candidates within a short interval of time. And most likely, if they have been recommended by placed candidates, you can safely assume that they'll be skilled prospects.
This is because your placed candidates would already know the hooks and nooks of this industry, and if they're recommending someone to you or recommending you to someone, they know what they're doing.
Tip 2 - Ensuring A Steady Flow Of Candidates
Employees who are experienced and know that they are skilled, usually don't wait for agencies to approach them, they approach the agencies they like or look up to. Now, how can you be this kind of an agency that they do approach? You have to convince them that your staffing firm is the correct fit for them, and would bestow them with the best career opportunities as well.
And here are a few ways to get it done :
a) You can sponsor a networking event or even a conference, based on the industries that you serve. This will not only get you seen but also will help your business submerge in the roots of the industries of your interest. Your agency can become the default choice for companies to find potential candidates.
b) Market your business through the power of content and digital media. SEO and PPC Ads can also be integrated to fetch attention and to establish your agency as a thought leader in the industry.
c) Make sure your firm's website is equipped with all the information that potential clients and your prospective candidates might seek. Lots of staffing firms out there have websites that look repetitive. You can break the cycle and think out of the box in terms of design, branding & the general vibe of your firm. Rather than being stringent, appear approachable and friendly.
Tip 3: Showing You Care & Being Different From The Competitors
Communicate the philosophy of your staffing firm and sound human. Most professionals are switching from permanent to temporary employment because they probably don't fit into the 9-5 culture and everything that comes along with it. In your quest to help other businesses grow, don't forget that your pool of candidates is human too. Give perks, incentives, and other benefits that may be small but can make them happy. Perhaps, something like a healthcare benefit or even food coupons - you can get creative with it!
Make sure to push this 'humane' side of your firm on your social media through sharing stories about your staff or boasting about their achievements! Whenever prospective candidates come across your agency, they will check your social media channels (we're living in the digital age, after all) - so you make sure that they have something worthwhile to see.
When it comes to being different from the competitors, you have to ask yourself this - what makes your firm unique as compared to theirs? Whatever your USP is, if you keep providing positive experiences to your clients, you're good to go. You have to ensure that you're giving your clients quality staffing experiences and here's how you can do that :
a) Write down and make a proper list of the expectations the clients have, to show sincerity.
b) Have enough meetings with the clients before signing any contracts or assignments, to deliver the best possible service and show the clients that you are committed to their needs.
c) Ask the client why they need this vacant position to be filled, it will give you an idea about what exactly they are seeking from a candidate.
d) Let them give you a deadline and try to deliver within their given timeframe.
e) Involve your entire firm in trying to fill a client's expectations for staff. They can spread the word around, and the process will quicken, and the clients will be happier if their demands are met sooner than expected.
f) Client testimonials may sound cliched but they work. Before you go to a new restaurant or buy a new product, don't you check out the reviews? So, similarly, aspiring or experienced temp workers will check out what others have to say about your firm. So, fetch and showcase the testimonials and let them be genuine!
Tip 4: Automation & Productivity Tools
A lot of repetitive tasks in the process of staffing can be handed over to automation. Almost all Fortune 500 companies are using some form of automation. Some are even depending on AI to find the very best candidates. Through Artificial Intelligence, staffing firms can also benefit a lot. They can collect more data on each candidate, which will make the evaluation process much more thorough.
AI can be taught an organization's requirements and criteria, based on which, it can find the candidates with the appropriate skills and experiences. It will save a lot of time, money, and resources, and your staffing firm's team can focus on other aspects of your firm's growth.
The conventional method of recruitment includes posting job ads, interviewing potential candidates, and then gradually selecting the aptest candidate from the pool of applicants. But this process is very chaotic and filled with inaccuracies as humans are prone to err, this is where you can reap the advantages of technology.
So these were a few tips to help you strategize for the growth of your staffing firm in 2021. While Covid-19's impact on the staffing industry has left things uncertain, you can equip yourself with the right tools to face the challenges, and find a stance when the industry regains momentum.
__
If you want to make your staffing process easier through technology, give Stafflist a try!