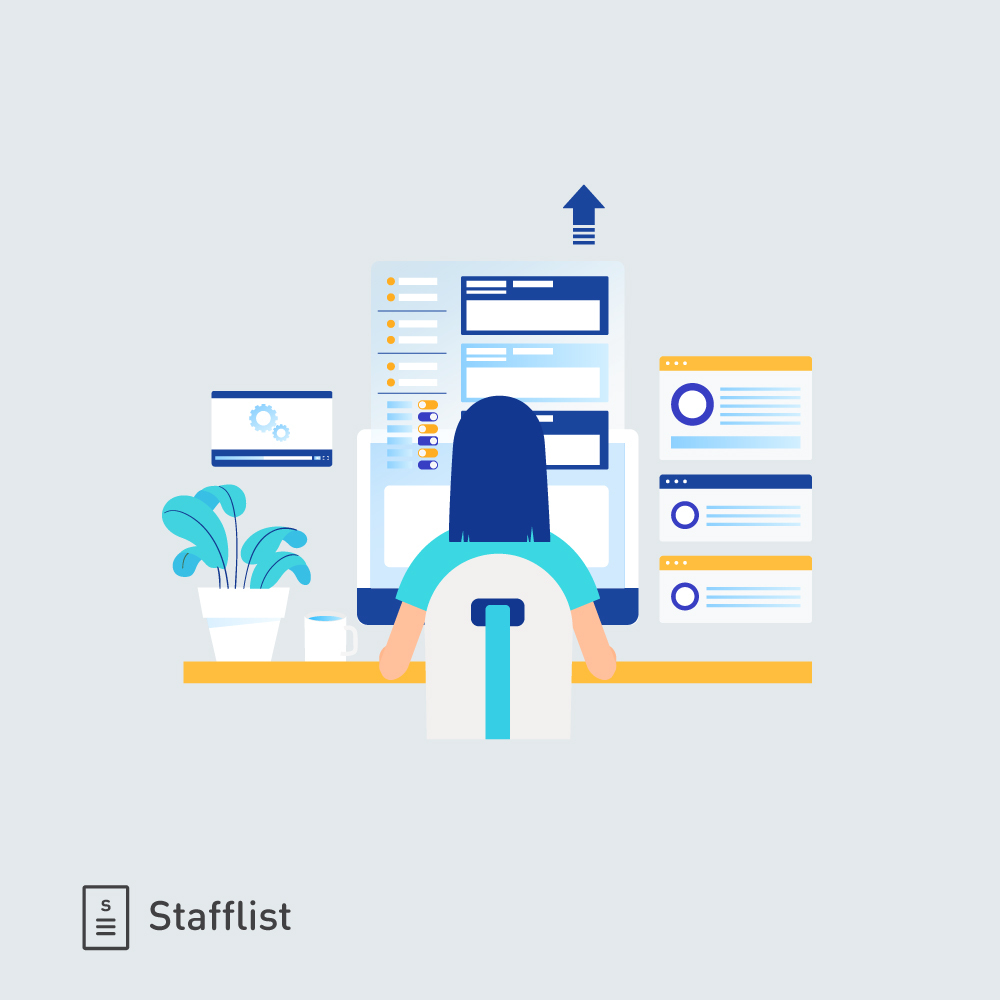 Everybody's going digital. And this trend is not just a fad, but it is here to stay. Give this article a read to know about the benefits you can reap, if you opt for a digital workforce management system.
Digital Workforce Management: Why & How It Should Be Integrated
'Digital Workforce Management' is a term that was originally coined to describe the digital management of the human workforce to receive the most effective and productive outcome and sequence of tasks in combination with manual labor.
Fast forward to today and its description can be amended to a digital and wide range of robotic and automated online solutions for pushing productivity and efficiency around the workplace. The growing adoption of this sort of management is owed to the rise of organizations, that function remotely – and now also because of Covid-19.
In certain companies, all employees work off-site, and in some only a few - but whatever the set-up is, it demands a practice of leading and managing such remote employees properly. This includes a combination of good communication, processes, and technology that has been solely designed to maintain a remote workplace.
Some people assume that remote employment lacks efficiency, but if it is done right, it can reap better results compared to on-site workplaces.
A company shouldn't hold back from investing in the right technological infrastructure, or else unavoidable problems are bound to occur. Remote employees and their work can be optimized by giving them a platform that can be easily used for sharing their ideas, have meetings, sharing information, and other aspects of their daily work-life. Now, let's move on to the three different facets of digital workforce management:
1) The Significance
Taking the current scenario into consideration, companies are looking for more flexibility with personnel planning, and only digital workforce management can grant them this freedom. Most are in a hurry to develop this kind of management to keep up with their competitors, which is a combination of time recording, sick leave updates, absence requests or approvals, and more. A digital management system will charge up the process to be swift and fast.
Because of the pandemic, the importance of having such a system is on a roll and the way our society functioned before, is being challenged and has to change. The solutions have to be in synchronization with the 'new normal' and the staff needs to have an acceptance for mobile systems as it is the need of the hour.
If the companies fail to adhere to and enable this new way of management, they will have to fight hard to stay in the game, if they stay in it at all.
There are a lot of reasons why digital workforce management is significant and here are some of them :
Ensures that workers have more predictable and less stressful work schedules.

The optimal utilization of workers and their skills, to place them where they fit best.

To gather and analyze data that would further improve staffing behavior within a company.

To manage paid time offs (PTO) even better.

Better scheduling and forecasting by using artificial intelligence or to analyze cross-functional data from departments such as sales, finance, and et cetera.

Technological assistants such as bots can be used to communicate with employees about their interests and availability, and not dividing their tasks and shifts based on assumptions, which could lead to chaos and discontentment.

To get valuable feedback regarding the management styles, revised policies, or changes in operational processes.
2) The Planning & Implementation
The hardest part of the integration of any new system lays in its introduction. Employees often show reluctance to accept a change in their workflow, and it will take time for it to be implemented and warm them up to the idea of a new management system. This occurs because they carry the negative perception of equating a new system with dramatic changes in work schedules, salaries, benefits, and vacation times amidst many other factors. This misconception has to be addressed first and the advantages of using a digital workforce management system have to be pointed out.
Changes will indeed take place with the implementation of a digital system but it's good for the company in the long run. It is important to ensure that these anxieties are managed without putting down the staff's morale or lead to employee turnovers due to increased 'overwhelming' feeling amidst the employees.
Here are a few steps you can take before you introduce a digital workforce management system to your staff:
Communication is the key. Before you plan to invest in a new system, make sure to discuss it with your employees at all levels. It's something that affects them and hence, they should be aware of it. Involvement of the employees in the decision making is crucial as it would validate their opinions and feelings about it. So, frequently communicate with your employees by sending emails, having a poll, or just by conducting a meeting. They should understand the 'why' behind this change, and know how it will improve the company processes.

Hire an official to address the queries and questions that your employees may have regarding the upcoming upgrade to digital workforce management. No employee should feel less-valued, less-important, or ignored, and especially if you have a huge workforce, addressing their problems one by one is impossible, so you'd need a helping hand for the onboarding process. Attempt to find a digital workforce management system that is easy to understand and not complicated to operate. This would make the reluctance of employees lower, and processes would be easier to implement as people wouldn't take time to adjust to it. Once the system has been installed and people have developed a habit of the software, it will be easier to integrate the next steps.

A training period before the integration of the digital workforce management system is necessary. Employees would be completely lost without some guidance and practice. After all, it would change how they conventionally applied for leaves, logged in and out, requested for vacations, or managed their shifts. The new software will probably be loaded with a ton of features that may seem very overwhelming at first. So, to kick this apprehension to the curb, comprehensive training is essential to get past the cultural shock and ultimately help everyone to arrive at a common point of high functionality. And one more thing, every employee should be a part of the training, and nobody should be left out.

Communication is vital even after the implementation of the software. A company should make room for feedback so that the employees can talk about their issues regarding the same. Some people have a knack for technology and would understand the functions of a new system pretty fast but some employees aren't as tech-savvy and would need constant directions to master new software. Upon using a new system for a few months, people may come back with more problems, and you need to be prepped up with the solutions. Any confusion with the software may take time to figure out, which would come in the middle of the employees' usual work. Hence, a consistent feedback system goes hand-in-hand with the implementation of a digital workforce management software. Remember that a company will only be able to enjoy the benefits of this upgrade when all the employees are on the same page.
3) The Challenges
Not so long ago, most on-site management systems dominantly worked on certain hardware only. This was expensive and required even more money for its high maintenance and support costs. Naturally, most on-site workplaces considered using technology as too expensive. Nowadays, things have changed, a mobile phone or a tablet is enough to support the majority of applications, which can be provided by the company or the workers can simply use their own respective devices to access a system.
Although, the truth is most on-premises devices will not be able to support high-end digital workforce management software that works on AI or big data analytics. That's why the future of digital workforce management is often cloud-based. HR data is highly confidential, hence, the hosting should come from one source. Security, data protection, scalability, and high availability of the software are all very needed assets but at the same time can be the bottleneck of everything. Cloud-based SaaS software seems to be the key to that bottleneck. But with a new movement towards data security issues such as data sovereignty also play a big role – who would like to suddenly see their data out in the open?
Here are a few challenges that a company might face with the advent of a digital workforce management system :
Like it was pointed out before, in this article, some members of a company will be reluctant to embrace change. They are people who are so used to the traditional way of doing things that something so technologically advanced will be hard to accept. The younger generation as compared to the older one, are more flexible than others towards such changes. That's why there you need to communicate the advantages properly and give them enough space to adjust to this system.
You should have a digital workforce management system that can work even in low-end smartphones. If not, you should invest in providing the right device to your employees so that they can use this system efficiently. If a few employees do not have a device that does support technologically complex systems - it would create a barrier and make 'going digital' much harder. They should get constant tips and ideas to successfully harvest the benefits of a digital system.
Of course, the transition won't take place overnight. Not many can master the software in one day and would require time to fully understand and utilize it. You have got to be patient with your employees and not rush them in any way. Some people will take more time to be on the same page as you, and would require recurring training to use the software.
Beware of technical and data critical man traps
Think about what data will be needed to be able to make the shift. Who needs access and what is essential for the company to succeed, and what really does help in daily communication with all stakeholders. You need to set a bar defining what will be too much-unneeded information.
Try out Stafflist now and go digital with your workforce management system! With a user-friendly interface, it's easy to set-up and will integrate smoothly into your company.