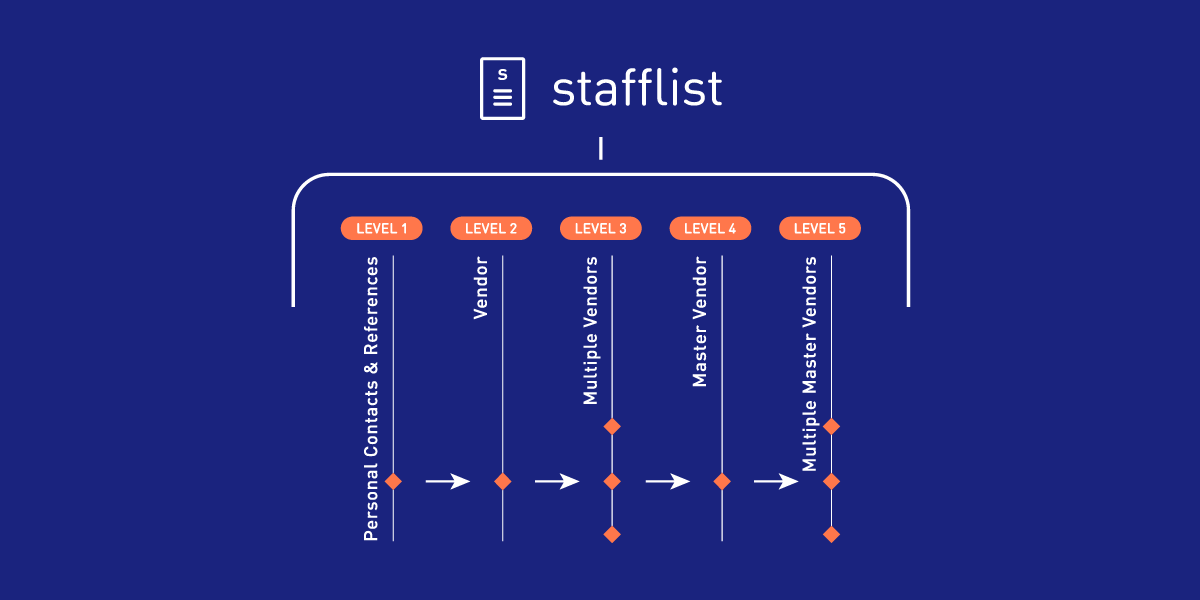 This article covers the different phases or levels that a company goes through while fetching external employees via staffing agencies. Find out which level would suit your organization best, depending on its size and demand for temporary workers!
Staffing itself is a challenge. External staffing is even more so! How? Because there are so many factors, processes, and goals to keep in mind before locking on candidates.
Whether they have the right qualifications, experience, the availability factor, how many shifts can they cover, and the questions linger on!
The process is generally chaotic, as you will have to go through many phases to find the way that works for you. But we have lightened your burden by providing below, the different levels at which you can rely on staffing agencies.
And they are as follows -
Level 1 :
The simplest way to fetch temp employees, if you only require one or two, is to use the phone or email. Does your aunt know of someone who works in this sector? Contact him. Your best friend's roommate works in your particular sector. You can call her up! This level of recruiting temp staff mostly relies on personal contacts & references. You pick the people who fit the criteria and are available on an immediate basis, absolutely within reach.
But what if they're all not available? Staffing is after all a continuous process that has a repetitive nature. Hence, using the same procedure to procure external staff may feel like a challenge, especially when someone bounces out.
In case a particular contact does not work out, or the need for staff is more, you or your organization has to move on to the next step.
Level 2 :
When you realize that it's costing you too much time and effort to find the right staff on your own, you will need to seek a staffing agency that can fetch experienced candidates on your behalf. They will take on the responsibility to find for you exactly the kind of temp workers you need.
Such staffing agencies usually have a pool of trained employees ready for different gigs, so the process becomes much faster than before.
Depending on the number and types of staff required for the organization, the concerned party would correspond with a particular staffing agency. Some agencies also take care of the screening of applicants, employment tests, interviews, and necessary medical examinations.
So, this level will unburden your troubles to a great extent. All you will have to be concerned about is the management of this external workforce, once they are hired.
Level 3 :
Your company is already at a bigger stage or has grown into that. You will naturally have a requirement for a lot of external personnel. So, instead of one you would need to contact several staffing agencies to fill in the vacant positions.
To fetch a lot of staff is a challenge, especially if you need them to have specific qualifications. So, reaching out to just one staffing agency wouldn't suffice, the inclusion of more staffing agencies would be imperative.
The remuneration, training, and other aspects of the staffing process will usually also be taken care of by the staffing agencies themselves. So, once again, you wouldn't need to spend money, time, and resources in transforming the employees into an asset,since the agencies will make sure that the candidates are efficiently trained.
For a hassle-free recruitment of external workers, you can opt for this level. After this, the demand reaches a new high and the next level begins. And this is where it starts to get really intense.
Level 4 :
When the demand for external staff further increases, reliance on staffing agencies also rises along with it. But when so many stakeholders are involved, the management also becomes chaotic. However, if planned properly, it can be made easy.
At this level, one primary staffing agency becomes the 'Master Vendor', or perhaps another agency is brought into the picture to take up this role. The other staffing agencies in between become the subcontractors to this Master Vendor. Then again, these subcontractors will handle the staff that they provide to the company, and the Master Vendor will overview these temporary recruitments.
You would need to coordinate with the primary Master Vendor to keep a track of the overall staffing status. Your involvement has to be a little more because there are so many employees involved. As a matter of fact, having a few permanent employees for handling such affairs would be wise.
You would probably also need to talk to the Master Vendor for an on-site manager, one who would be able to tackle the hired temp workers well.
Level 5 :
You are beyond level 4 and have not only one department but several departments all working with different master vendors and staffing agencies. And it becomes a mess again. So, accordingly, more than one staffing agency needs to be contacted, and more than two Master Vendors would be required for different jobs.
Almost all Multi-National companies are found taking this approach. Because they don't just have different departments to worry about but branches too. In this external staffing process, you have different Master Vendors for different branches, and they have other staffing agencies under their wing, who further have other staffing agencies under them too. So, do you see how spread out the process becomes at this level?
You have to combine all the levels mentioned above and try out different approaches for the different positions you have to fill. No matter what your approach is, Stafflist comes to the rescue to simplify and untangle the chaos, being a platform/software that will uplift your staffing process and also management when it comes to the external employees.
_
After reading this article, you might have gained some insight, and perhaps will directly hop onto a level without having to go through all or some of them.
In conclusion, staffing agencies are an indispensable part of many industries because they're the only ones who can help with getting experienced temporary workers within a short period. So, relying on agencies is inevitable, if your company has climbed the ladder of growth.
You will obviously need a software that supports you here. That allows you to manage all your stakeholders at once, from internal staff to external staff, from open jobs to internal departments to staffing agencies - with and without Master Vendor. Even better: Find yourself one, that grows with you and allows you to work along with it.
Want to take your workforce management game to the next level? Give Stafflist a try now!