Alert your vendors directly for your personnel needs
Companies are constantly facing the challenge to expeditiously fulfil vacancies with the correct talent. With Stafflist you can fulfil your personnel targets 24/7.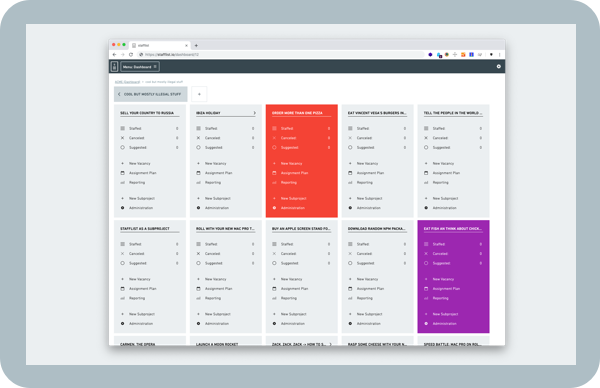 Stafflist bundles all your open positions for staffing
No matter whether your own or external personnel is used, no matter how many teams, departments or countries are involved - you will find everything combined in one software.
Information for all
Departments, controlling, management, affiliated suppliers and last but not least the employees want to be equally informed. It is important to communicate everyday needs and short-term adjustments, to find solutions quickly and to provide the right information for everyone involved.
Stafflist starts where solutions like Excel and normal HR administration software have to give up. As an administration and collaboration tool, Stafflist helps companies to build their own platform for recruitment and HR administration:
Here companies, departments, main suppliers, subcontractors and qualified internal and external employees can be created, job planning, staffing and shift planning with internal and external personnel can be carried out, reports can be sent and all parties involved can be kept up to date.
Its modular structure helps to design Stafflist to suit your own workflow: Modules can be added or deselected at will, data can be synchronized via interfaces. The platform is private and cannot be viewed by others. Users can only access it by invitation. Stafflist is offered in two variants: Standard or Premium, on request as SaaS or On-Premise version.